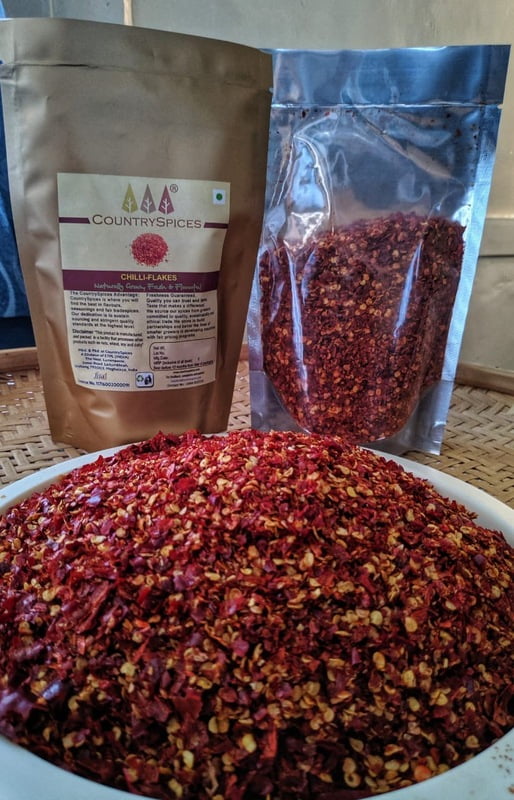 CountrySpices Red Chilli Flakes
Non-returnable
Why From CountrySpices
Cultivated in North East of India , in natural environment. Quality assured by CountrySpices.

Buying of CountrySpices products improves livelihood of Meghalaya farmers.

Spices are used by generations for multiple medicinal purposes.

CountrySpices products are freshly procured from our network of 45+ farmers. The products are packed and shipped directly from Shillong, Meghalaya, India to retain original flavor and aroma that makes them best.
---
CountrySpices Red Chilli Flakes
Place of origin: Meghalaya, India

---
Red Chilli Flakes is a spice that comes from a mild red pepper in the family Capsicum . Its flavour ranges from sweet and mild to hot, depending on the variety of pepper and whether the hotter seeds and spongy tissue are included. Red Chilli Flakes is equally valued for its taste and its bright red colour, derived from capsanthin
Culinary Uses:
The rich colouring of Red Chilli Flakes not only enhances the visual appeal of foods, but it can also be used as a key flavouring.
It goes well with any savoury food, including vegetable curries, stews, creamy sauces, pastas, pizzas, tomato dishes and salads.
For most recipes, Chilli Flakes is added near the end of the cooking process because heat diminishes both the colour and flavour.
Chilli Flakes is useful as a simple garnish for almost any savoury dish. Sprinkle Chilli Flakes on potatoes or homemade fries.
Chilli Flakes can be mixed with bread crumbs before sprinkling over casseroles or vegetables.
Health Benefits:
Chili Flakes contains an impressive list of plant-derived chemical compounds that are known to have disease-preventing and health-promoting properties
Chilies contain health-benefiting an alkaloid compound in them,capsaicin, which gives them strong spicy pungent character. Early laboratory studies on experimental mammals suggest capsaicin has anti-bacterial, anti-carcinogenic, analgesic and anti-diabetic properties. It also been found to reduce LDL cholesterol levels in obese individuals.
Chilies are also good in the B-complex group of vitamins such as niacin, pyridoxine (vitamin B-6), riboflavin and thiamin (vitamin B-1). These vitamins are essential in the sense that the human body requires them from external sources to replenish.