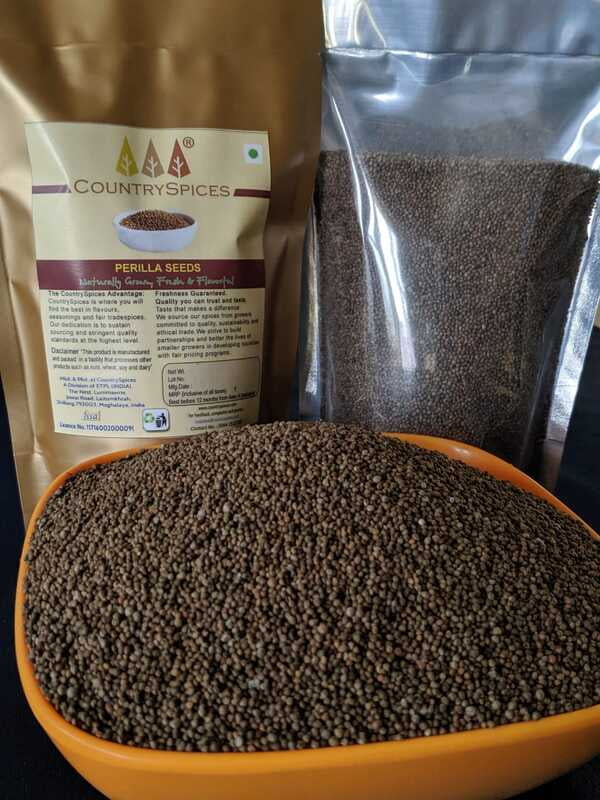 CountrySpices Perilla Seeds
Non-returnable
Rs.1,200.00

-

Rs.1,500.00
Health Benefits:
Improve intelligence and brain fitness.
Resist ageing.
Reduce cholesterol levels and lower blood lipids.
Reduces thrombus formation.
Inhibit tumour.
Improve the reflectivity of the retina and enhance vision.
Benefit a healthy pregnancy and a healthy baby. So, it is ideal for pregnant women, lactating women, and people with high cholesterol.
---
CountrySpices Perilla Seeds
Place of origin: Meghalaya, India

---
Perilla seeds make an excellent alternative to chia seeds / Flax Seeds and are tastier. Perilla seeds have twice the omega-3 fatty acids as chia seeds. Omega-3 is important for brain functioning, and is hard to come by from plant sources. The delicate, nutty taste of these tiny, oval, flat seeds is often enjoyed in Asian and Middle Eastern dishes. Try them folded into bread or cookie batter, sprinkled on steamed vegetables, and ground with sea salt as a table condiment. Roast them to enhance their flavor.
The omega-3 to omega-6 ratio in perilla seeds is 6 to 1, the highest of any oils. Some studies have indicated that our modern diets have created an imbalance in the desired ratio (too much omega-6), so any food that can work to restore the balance is considered welcome. The perilla seed is also supposed to taste a bit milder than chia seeds.
Perilla seeds are aromatic seeds, that is used as a spice and to prepare flavored chutney. Oil extracted from the seeds is used in cooking or as a medicine. Perilla seeds are a good source of polyunsaturated fatty acids (PUFAs). The seeds of perilla are small & weight about 4 g. As compared to other plant oils, perilla seed oil consistently contains one of the highest proportion of omega-3 (ALA) fatty acids, at 54–64%. The omega-6 (linoleic acid) component is usually around 14% and omega-9 (Oleic acid) is also present in perilla oil. These polyunsaturated fatty acids are most beneficial to human health and in prevention of different diseases like cardiovascular disorders, cancer, inflammatory, rheumatoid arthritis etc.
Culinary Uses: Perilla Seed is edible and medicinal. The seed have a very pleasant sweet taste and are used as a spice, cooked as potherbs or fried, and combined with fish, rice, vegetables and soups. The Perilla Seed is very nutritious, packed with vitamins and minerals.