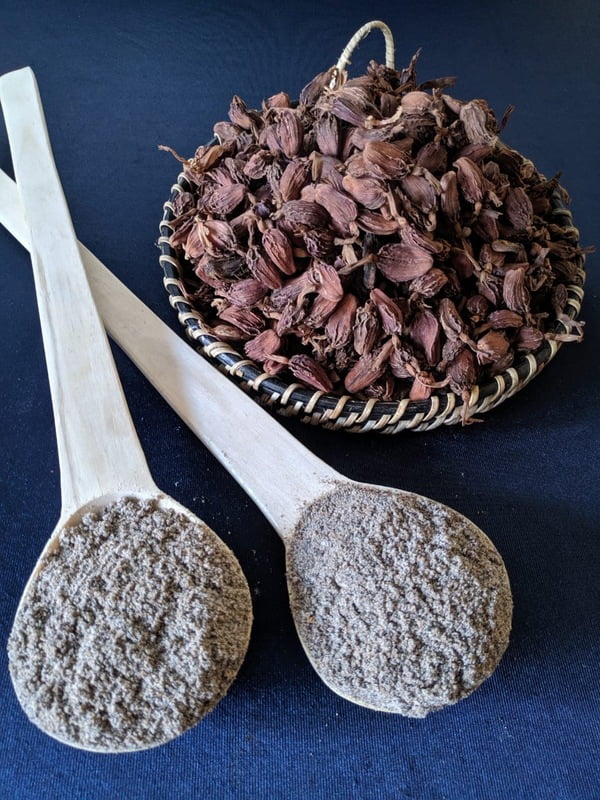 CountrySpices Black Large Cardamom Powder
Non-returnable
Rs.1,800.00

-

Rs.3,000.00
CountrySpices Black cardamom powder is used as a "heating" spice. IIt is an important ingredient in combination with Countryspices Cloves, CountrySpices Cinnamon, and CountrrySpices Black pepper in any garam masala. Black cardamom is much stronger than green cardamom, with a bold, resinous, and smoky flavor. It is used to give depth to masalas and tandoori-style spice mixtures. lack cardamom powder is used in India in spicy and rustic dishes and in western Asia in savory dishes. This spice is also used to season pickles.
The health benefits of black cardamom are numerous and cut across every part of the body such as skin, heart, teeth, hair, and much more. The nutritional values of cardamom give rise to all these benefits. Its effect in spice cooking is another essential usefulness that makes cardamom a favorite in the kitchen.
This perennial flowering plant produces seed pods that are often dried over an open flame, giving them a roasted and savory spiciness, quite different from the slightly sweet flavor of green cardamom. It is not just a versatile spice that goes well with foods as varied as tea and stew, savory meat and fish, and sweets and cakes, but it also has myriad health benefits to offer.